Les migrants sont aussi des parents et des enfants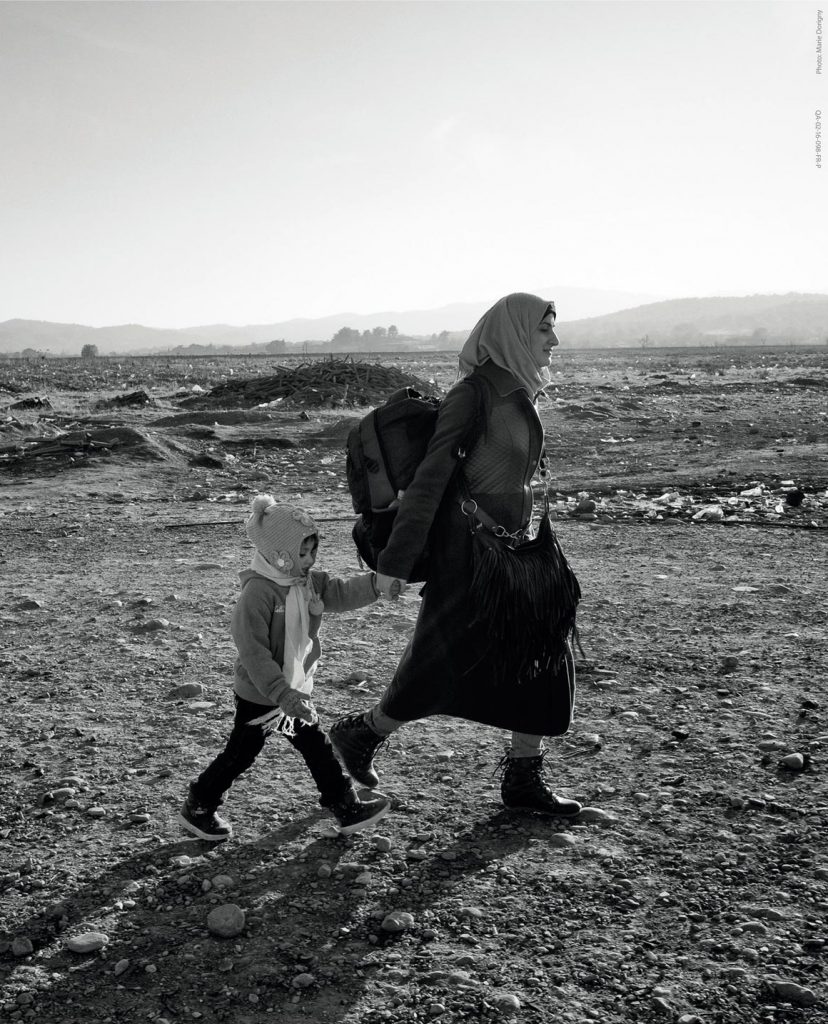 Migranten zijn ook ouders en kinderen
28-29/04/2017
de/van 10:00 à/tot 17:00 h/u
Bruxelles/Brussel, Tour & Taxis, WetenschapEXPOsciences
Village du développement / Ontwikkelingsdorp
Une rencontre entre des enfants et des familles pour comprendre les causes et le contexte des migrations.
Een ontmoeting tussen kinderen en gezinnen om de oorzaken en achtergronden van migratie te begrijpen.
Activités/Activiteiten:
Dans le cadre de l'EXPOscience, un espace 'Village du Développement' sensibilisera les enfants et les parents sur les causes et la problématique des migrations. On y trouvera des stands animés par des élèves qui présenteront leurs recherches sur les questions de migration. Des associations de terrain ainsi que des étudiants et des artistes proposeront des ateliers de création artistique (storytelling, peinture, musique, danse, acroyoga…) , des jeux, des expositions, des jeux de rôle et des rencontres avec des migrants qui vivent actuellement en Belgique seuls ou en famille avec enfants, et qui participeront à l'animation des stands.
Op de WetenschapEXPO wordt er een ruimte met de naam 'Ontwikkelingsdorp' geopend om kinderen en hun ouders bewust te maken van de oorzaken en de achtergronden van migratie. Leerlingen zetten verschillende tentoonstellingen op waar ze vragen over migratie behandelen. Ook verenigingen, studenten en kunstenaars – bij migranten betrokken – zullen veel activiteiten aanbieden. Voorbeelden van deze activiteiten zijn kunstzinnige workshops (verhalen vertellen, schilderen, musiceren, dansen, acrobatische yoga, etc.), spellen, tentoonstellingen, rollenspellen en ontmoetingen met migranten. Deze migranten zijn gezinnen met kinderen en ook alleenstaanden, die nu in België verblijven en deelnemen aan de activiteiten van de expo.
Organisation/tie: MEDIEL asbl & Jeunesses Scientifiques de Belgique
Partners: Le ligueur & la Ligue des Familles, O.N.E., Délégué Général aux Droits de l'Enfant, O.E.J.A.J. – Observatoire de l'Enfance de la Jeunesse et de l'Observation de la jeunesse, I.O.M. – International Organisation for Migration (United Nations), Het Platform kinderen op de vlucht / Plate-forme Mineurs en exil, Vluchtelingenwerk Vlaanderen, Convivial, Jesuit Refugee Service Belgium, CIRÉ & la Caravane des sans papiers, Kots-à-projets Migrakot, Maison JOSEFA, Centre Avec, Magma, Religions-for-Peace Europe, reporter Bertrand Vandeloise, artiste-storyteller Roman Kroke, acroyogiste Ola Jas, musicienne Ariane Cohen-Adad, des peintres, des danseurs…
---
Belgium for Development
The singer Brooke Sharkey and a team of young reporters make a trip to Bethlehem to visit Palestinian women coming to give birth at the Holy Family Hospital. The Holy Family Hospital specializes in Maternity care for the women of Bethlehem and it's surrounding area. Thanks to the financial support received from the DGD, it's mobile hospital drives to remote villages in the desert of Judee and provides health services.
Als om het feest van Kerstmis voor te bereiden trok de ploeg van Louvranges Broadcast naar de andere kant van de Israëlische muur om in Bethlehem Palestijnse vrouwen te ontmoeten in het hospitaal 'De Heilige Familie'. In deze materniteit bevallen een 3500 vrouwen per jaar. Daar kan geen ziekenhuis in Brussel of Parijs aan tippen. Het personeel bestaat uit een mix van christenen en moslims. Het is een voorbeeld van vreugdevol samenleven.
Discover more about Brooke Sharkey
Guillaume, géographe-climatologue après un Erasmus+ en Suède, et Jérémie, jeune médecin, mènent un reportage dans la région des Grands Lacs africains, une zone qui connaît des guerres à répétition depuis 20 ans. Les reporters y rejoignent deux membres de l'Ordre de Malte qui effectuent le suivi d'un projet porté en commun avec Caritas International sur l'île d'Idjwi située au centre du lac Kivu.
Twee jonge Belgen, Jérémie en Guillaume bezoeken de regio van de Grote Meren in Congo. Op het eiland Idjwi gelegen in het midden van het Kivumeer sloegen de Orde van Malta en Caritas International België de handen in elkaar voor een ontwikkelingsproject dat voedselveiligheid en gezondheidszorg bovenaan de agenda plaatst. Ontwikkeling ter plaatse is de beste remedie voor vrede.
Une vingtaine de rhétoriciens belges partent au Vietnam et au Cambodge pour découvrir les réalités de la coopération au développement. Objectif: s'immerger dans la population locale et participer aux activités des projets de développement des ong Mékong Plus et Maison Chance. Particularité, c'est à vélo qu'ils effectuent leur périple dans la vallée du Mékong!
Een twintigtal laatstejaarsstudenten van het instituut Saint Charles van Luingne maken een speciale reis. Zij kiezen ervoor om naar Vietnam en Cambodja te trekken. Daar bezoeken ze verschillende projecten die aandacht hebben voor de minsten en de kracht van solidariteit in de verf zetten. In Cambodja krijgen de jongeren een fiets om hun tocht tussen verschillende projecten van Mekong Plus af te leggen.
---
Women of the Great lakes
Alexandra, Aisling, Erika, Julie and Pauline, five young reporters from the Erasmus+ generation, go off to Vietnam, Peru, Congo, Rwanda and Burundi, followed by a rolling camera. They meet with men and women committed to work with humanitarian projects carried out by 6 Belgian NGOs. Many of them are founded by the Belgian Development Cooperation .
---
It's our money. It's their future!
Recommanded by the Belgian Presidency of the Council of the European Union

There are numerous stereotypes and preconceived ideas upon the area of development assistance. "To what utility is our money spent by the NGOs? Who is in charge of rating the priority regarding the different actions? Do the projects coincide with the real needs of the local population?…"
In order to get a closer look on these questions, some Erasmus+ students take off to Africa and Haiti, followed by a rolling camera, they meet with men and women committed to work with humanitarian projects carried out by Caritas, Via Don Bosco, Entraide & Fraternité and ACF (Action Against Hunger), many of which are founded by European financial ends.
MADAGASCAR
Alexandra, who has been Erasmus+in Ireland, and Medea pay a visit to the Salesian Centre of Ivato, backed by COMIDE. Here they welcome around 200 youths aged between 12 and 22, orphans, in social, domestic or scholastic difficulty. The Centre provides the youths with a professional, social and spiritual education with the aim of giving a helping hand in their introduction to the labour market and stepping into the Malagasy society.
SOUTH AFRICA
Our reporters cross the canal of Mozambique setting course toward South Africa, a country that is celebrating the 20th anniversary of the liberation of Nelson Mandela. Here, the Salesians of Don Bosco offer to men and women living on the streets of Cape Town, an education, know-how and competencies in finding a professional activity.
BURUNDI
Julie, who has been Erasmus+ in Spain, and Joëlle discover a country that is just recently rising from the gory conflicts between Hutus and Tutsis. By the Tanzanian border, they visit a "peace village", where CARITAS is active. The peace village is an innovating concept in the peace process and that of reconciliation in Burundi. From there they continue to the inland of Burundi, where they get acquainted to a project of micro-credit allowing households to take loans and develop minor business activities.
CONGO
Julie and Joëlle then set course to the other riverside of the lake Tanganika and to Bukavu located in the Democratic Republic of Congo. Bukavu is known as a "dark spot" on our globe for its repetitive conflicts. In partnership with a local NGO, the Entraide & Fraternité and the Anti-bwaki Committee back a development programme sprung from a local initiative. They carry out actions aiming to enhance the role of women in the Congolese society, where women traditionally often are marginalised.
HAITI
In Port-au-Prince, Anna who has been an Erasmus+ intern at Cafebabel in Paris, meets up with Julie – our reporter in Burundi and Congo. Eight months later, Julie has taken on the role as project coordinator with the NGO Action Against Hunger (ACF) in Port-au-Prince. Together with Anna and Julie, we discover a dozen portraits of young men and women who have chosen to step in and commit to an emergency situation.