CONVOY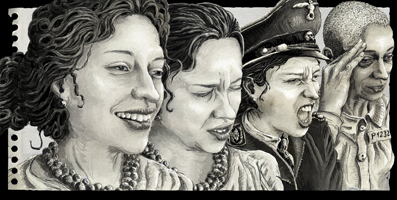 The project LE CONVOI has been selected by the European Commission to be included in the brochure "The Citizen's effect" (2012), featuring 25 emblematic stories about the 'Europe for Citizens Programme'.The brochure is now available online, LE CONVOI can be found at pages 60-61 in the section "Remembrance" of the brochure

---

"Convoy" is a documentary film inspired by the life and writings of Etty Hillesum, a young Jewish woman from Amsterdam who was deported to Auschwitz where she died in 1943 at the age of 29. Firmly set in the present, the film tells the story of Alexandra (Polish) and Florian (French), two Erasmus students who, inspired by reading the Journal of Etty Hillesum, decide to retrace her footsteps across Europe. During this "road movie", which begins in Holland and ends in Poland, crossing through Germany and Belgium, the two "citizen reporters" meet people of different ages and backgrounds, who provide them with stories that challenge their own prejudices.
The unearthing of the fascinating historical accounts form the survivors of the concentration camps provide themes and topics of discussion very relevant to present day society; such as the origins of fear, which can lead to consider the "other" as bad, impure and to be rejected. Each stop of the journey is also an opportunity to become better acquainted with Etty Hillesum. Her thoughts, fiery and free, punctuate the narrative with conviction: "listen to the essence and depth of the other", without ever yielding to hatred and despite the horrors witnessed.
The story of "Convoy" ends in Auschwitz, but the experience, knowledge gathered and shared emotions pave the way towards another trip, one that is within.
A film by ANDRE BOSSUROY
Illustrations: ROMAN KROKE
Music: FLORIAN GRAVOUIL
Reporters: Alexandra JASTRZEBSKA, Maria ZIELINSKA, Florian GRAVOUIL
Production: MEDIEL with the support from the EACEA Agency of the European Commission (Programme Europe for citizens – Active European Remembrance)
---
ICH BIN

"Ich bin" is a historical documentary addressing the memory of the victims of Nazism and of Stalinism.

Four young Europeans meet with historians and witnesses of our past…
They investigate the events of the Second World War in Germany (the student movement of the White Rose in Munich), in France (the Vel d'Hiv Roundup in Paris, the resistance in Vercors) and in Russia (Katyn Forest massacre).They examine the impact of these events; curious to how the European peoples are creating their identities today.

This documentary, produced and directed by André Bossuroy, is accompanied by the original compositions of the French musician Florian Gravouil (
listen it online
) and by the Berlin stationed artist Roman Kroke, who has interpreted the meetings and the historical events with his illustrations (
www.roman-kroke.de
).
A film by ANDRE BOSSUROY
Production: MEDIEL with the support from the Fondation Hippocrène and from the EACEA Agency of the European Commission (Programme Europe for citizens – Active European remembrance)